The classroom is a place that impacts a child's social development greatly. Including friendship group activities in classroom curriculum can have a significant, positive impact on a child's social emotional development.
Friendship group activities for elementary students, whatever form they take, can create positive associations between happiness and community engagement. (Harvard) These activities also promote important lifelong skills of cooperation, empathy, and respect.
Friendship Group Activities
We've provided a few friendship activity ideas below. They range in complexity between activities that only need a few minutes of prep and no supplies, to activities that require a longer timeline and need a few items. It would make sense to incorporate a handful of friendship group activities into classroom curriculum throughout the academic year.
The Greeting Game
Supplies:
How to do it:
This game is good for the beginning of the school year when everyone is still learning names. The students take turns saying, "Hello, [name]" to everyone in the classroom. The student who remembers the most names without stumbling wins a small prize.
Why it's a good idea:
For a lot of children, one of the most intimidating things they will face is starting a conversation with strangers. (Wired) Helping children create positive emotional associations with saying "hello" to people is a valuable skill they can carry throughout the rest of their lives. It will help them to get past nerves that come with meeting new people.
Group Art Activities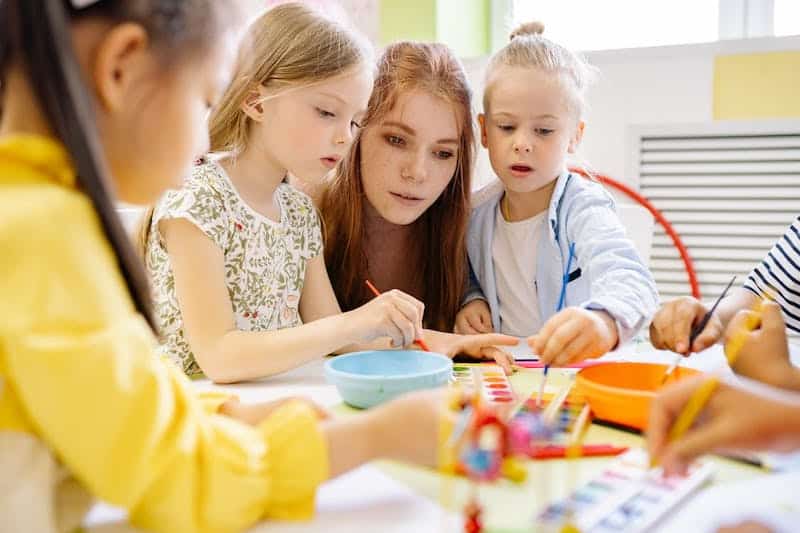 Supplies:
Paints, sidewalk chalk, crayons, or other art supplies, and a big surface that children can work on together.
How to do it:
Suggest a theme–birthdays, space, friendship, etc. Children will create a big mural on that subject.
Why it's a good idea:
There are a lot of reasons creative group activities foster a sense of community. (

HarvardGSE

) Students have the opportunity to plan together, to see how other students solve problems, and to share in contributing to something they can all feel excited about. A shared sense of accomplishment is impactful.
Group Storytelling Activities
Supplies:
Notebooks, whiteboards, computers, or anything else where children can record the events of the story.
How to do it:
Start with a prompt. Either ask for volunteers or call on students to contribute a sentence or event to a story. Work together to build a cohesive story. Ensure that every student gets a chance to contribute.
Why it's a good idea:
The stories that we tell hold our communities together. (

Ed

) When children cooperate to create a story, it promotes a sense of accomplishment and community. Because every child in the classroom gets a chance to contribute, every child receives the opportunity to feel a sense of personal accomplishment, as well as an opportunity to hear the ideas of their classmates. This activity also provides a give and take structure which is important in social interactions.
Blindfolded Obstacle Course
Supplies:
How to do it:
First, have the children rearrange the furniture in the classroom into an obstacle course. Next, children will take turns putting on the blindfold and navigating the obstacle course. All the other students in the classroom call out instructions to the blindfolded child to help them get through the obstacle course. Take turns with different students and rearrange the course each time.
Why it's a good idea:
Learning trust, earning it, and instilling it in other people, is one of the most important emotional learning skills a child can develop. (

Visibly

) An activity where students have to help each other out and trust that the help they are receiving will provide a positive outcome provides a chance to create strong social bonds.
Finding Things in Common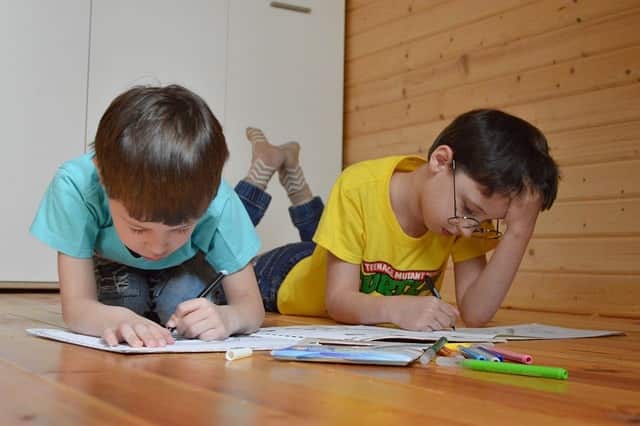 Supplies:
None, or create a bingo card.
How to do it:
Organize students into small groups. Children sit down with their groups and find out things they have in common (e.g. like pizza, have a brother, love dogs). Make it a game by setting a certain number of things in common they need to find. Whichever small group finds that number of things in common first wins a prize.
Why it's a good idea:
Finding common ground with others is an essential part of developing strong social bonds. (

Gazette

) A friendship group activity that encourages kids to learn more about each other is a great way to learn how to make friends in and out of the classroom.
Friendship Social Skills Group Activities
Educators who need assistance in developing friendship group activities for their students or other social emotional activities can receive help through Soul Shoppe. Soul Shoppe provides social emotional learning programs, online or in-person, for children and educators. Soul Shoppe strategies encourage children to build community and meaningful relationships with their peers. Whether helping in the classroom or assisting parents at home, Soul Shoppe focuses the discussion on social skills and emotional learning. Click for more information on SEL Programs for Elementary Schools, homeschool social emotional electives, or our parent support programs.
You May Also Like:
Conflict Resolution Activities for Kids
Virtual Social Emotional Learning Activities
Teaching Empathy to Kids and Teenagers