For some kids, classrooms might be the only safe place they know. Unfortunately, some children have had traumatic experiences in their past, and some are experiencing trauma at home in the present. According to the US Department of Veterans Affairs, somewhere between 14% and 43% of all children live through traumatic experiences, and between 1% and 15% of those children develop PTSD. (USDVA) Children can suffer psychological, physical, or sexual abuse; although most traumatic experiences children live through relate to neglect. (USDVA) Trauma-informed teaching strategies will prepare educators to build classroom environments that nurture and welcome all children.
Trauma-Informed Teaching Strategies
Repairing trauma is a lengthy process, and generally, it requires attention from specialists in order to treat its effects. That being said, it is of the utmost importance for educators to create classroom environments that provide a sense of safety and security to students of all ages. (Harvard)
Creating a trauma-sensitive classroom checklist and gathering trauma-informed teaching resources will help educators to design strategies and classroom activities. These strategies will need to be adapted to the specific needs of each classroom. However, there are some trauma-informed teaching strategies that will help educators to develop trauma-informed curricula for their classrooms.
Trauma-Sensitive Classroom Checklist
It's impossible to plan for every possible trigger that might affect a child who is coping with a traumatic experience. However, it is possible to prepare teachers and faculty to notice the signs of trauma and cultivate a classroom environment that students experience as a safe place.
One effective tool in adopting trauma-informed teaching strategies is developing a trauma-sensitive classroom checklist. Examples of these trauma-sensitive checklists vary for the practical reason that different classrooms have different needs.
Here are some approaches worth considering in developing a trauma-sensitive environment:
Communicate expectations of students in clear terms and in a positive tone. For example, saying "Please walk," instead of "Don't run."

Foster an environment where individual student strengths are encouraged and rewarded.

Structure activities in a predictable and safe way.

Provide opportunities for students to practice emotional regulation and modulation. Examples include using Soul Shoppe's

Stop & Breathe technique

or

Emptying Emotional Balloons

exercises.

Create positive feedback policies for good behavior.

Review lessons and ensure they account for multiple learning styles.

Design activities that provide students with opportunities to practice effective community interaction.

Design activities that provide students with opportunities to practice effective planning and see how their plans can come to fruition.
When developing trauma-informed policy at your school, here are a few things to consider:
Leadership, faculty, teachers, etc. should adopt a strategy to implement a trauma-sensitive action plan.

Include clearly communicated expectations of predictably safe environments accommodating transition and sensory needs.

Encourage educators to assess the effect of trauma as a learning obstacle and adjust curricula accordingly.

Adopt balanced discipline strategies that include trauma in measuring accountability.

Assess the support available to teachers and educators, e.g., on-staff counselors or off-campus counseling services.

Are there channels for confidential discussions about students?

Ensure the creation of protocols and procedures for cooperating with safety planning, including court orders and confidential transfer and storage of records.
There is a lot to consider when designing a trauma-sensitive plan. However, creating this kind of checklist is a strong tool in developing trauma-informed teaching strategies and programs. So, while there is a lot to take into account, it's an important effort in fostering a safe learning environment.
Trauma-Informed Teaching Activities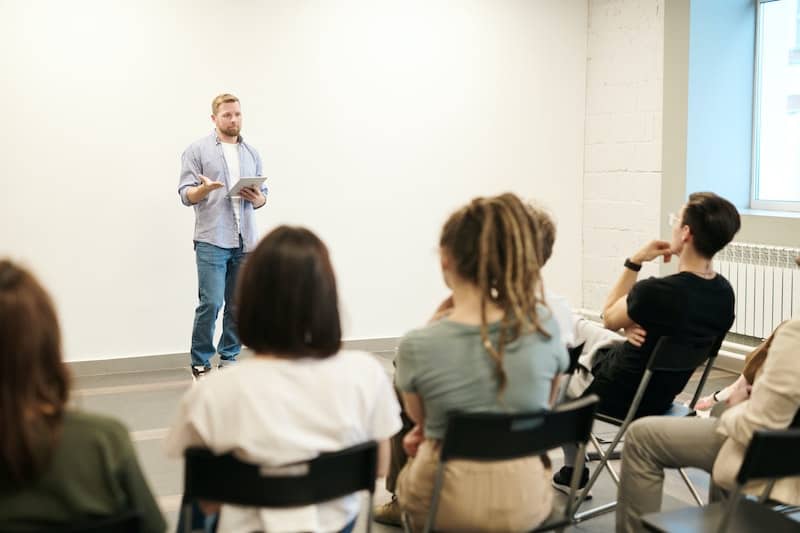 Implementing classroom activities is a powerful way to reach students. Developing trauma-informed teaching activities is a great way to help students who are coping with trauma.
Here are a few suggestions to get started:
Schedule classroom circle or community discussion time to build relationships, and strengthen classroom culture.

Share affirmation statements and then engage in positive discussion. This creates a space for students to talk about themselves and about other people in a positive way. A variation on this is the compliment circle where students sit in a circle and find things to compliment each other about.

Journaling can be a powerful tool for students to develop self-awareness. Provide students with opportunities to write down their thoughts with writing prompts.

Relationship-building activities, such as playing board games and working as a team, are powerful ways to give students the opportunity to practice emotional learning.
These are just a few to get educators started. There are a lot of trauma-informed teaching resources available. Soul Shoppe provides social emotional learning programs in the classroom and at home. Soul Shoppe encourages safe places and emotional growth for children. Click for information about SEL Programs for Elementary Schools. 
You May Also Like:
Conflict Resolution Activities for Kids
How to Teach Empathy to Kids and Teenagers
Confidence-Building Activities for Kids
Teaching Kindness in the Classroom