Peacemaker Trainer Certification
A restorative conflict resolution model for elementary schools
A train-the-trainer course
NEXT TRAINING begins JANUARY 31, 2023
Virtual live lessons and a two-day in-person intensive in Oakland, CA on September 29 & 30
Includes an on-demand course component and virtual live lessons over 3 weeks
Both receive access to Peacemaker program digital resources,
access to the Peacemaker Community, monthly group check-ins and more!
Peacemaker Trainer Certification
You will be trained to use Soul Shoppe's time-tested curriculum to build a school-wide, peer-based restorative model that students use to work through problems and conflict. This is a train-the-trainer course for the Student Peacemaker Program. Up to two adults per school gain the skills and support to effectively launch and run the Peacemaker Program, learning how to train and nurture student Peacemakers throughout the year. Soul Shoppe provides ongoing support to trainers through supplemental digital resources and monthly virtual check-ins.
Increased student responsibility
Increased safety on school campus
Less need for adult involvement in minor conflicts
More inclusive school culture
Positive school climate
The Student Peacemaker Program
One of the most powerful ways to implement Soul Shoppe's Peace Path® is to train a group of Student Peacemakers to help fellow students work out their problems safely and peacefully. Student Peacemakers learn essential communication skills and conflict resolution strategies to support their peers to resolve problems using Soul Shoppe's Peace Path®.
Soul Shoppe's Peacemaker Program is a student leadership program that trains a team of select 3rd, 4th and 5th-grade students in a peer-based restorative practice model. Student Peacemakers receive 6 hours of training and learn:
Decision-making and de-escalation skills

How to express feelings and needs

How to go deeper than "I'm sorry" using compassion and empathy

The value of teamwork

To experience themselves as leaders in their community
Soul Shoppe's Peace Path®
Soul Shoppe's Peace Path® is the centerpiece of the Peacemaker Program. Use of the Peace Path cultivates the five core competencies of Social Emotional Learning: self-awareness, self-management, social awareness, relationship skills and responsible decision-making. Restorative practice is embedded into the Peace Path process, making this the perfect recess tool to support students to responsibly and effectively resolve many of their conflicts on their own.
More and more research is pointing to the importance of supporting the well-being of adults and educators who work with students. A recent SEL policy brief by CASEL recommends that district leaders: 
Invest in professional learning or programs focused on adults' personal SEL skills.

Provide embedded professional learning on teaching and integrating SEL, culturally responsive education, family engagement, and creating a supportive climate.

Establish structures to share and elevate expertise and experiences of educators, such as peer coaching/mentoring and dedicated time for collaborative problem-solving.

Develop instructional coaching and feedback loops focused on SEL and school climate.
Peacemaker Certification Options
Fundamentals – everything needed to launch a Peacemaker program, train and nurture student Peacemakers, and support trainers throughout the year.
Plus – everything included in Fundamentals plus access to Peacemakers Unite!, a forum for student Peacemakers to share; training for classified staff; and virtual lessons for all students to fast-track the practices used on the Peace Path.
Year Two – for schools entering a second year of Peacemaker Trainer Certification. Training, materials and support for continuation of their student Peacemaker Program.
Our train-the-trainer program is an immersive experience filled with activities that will fully support you to:
Discover your own conflict & problem-solving styles

Understand the physiology of stress & conflict

Learn the restorative power of the Soul Shoppe Peace PathⓇ

Gain new tools to work through problems

Enhance your listening and empathy skills

Feel confident about training your student Peacemakers

Set up the Peacemaker Program for success

Support the entire school to use the Peace Path tools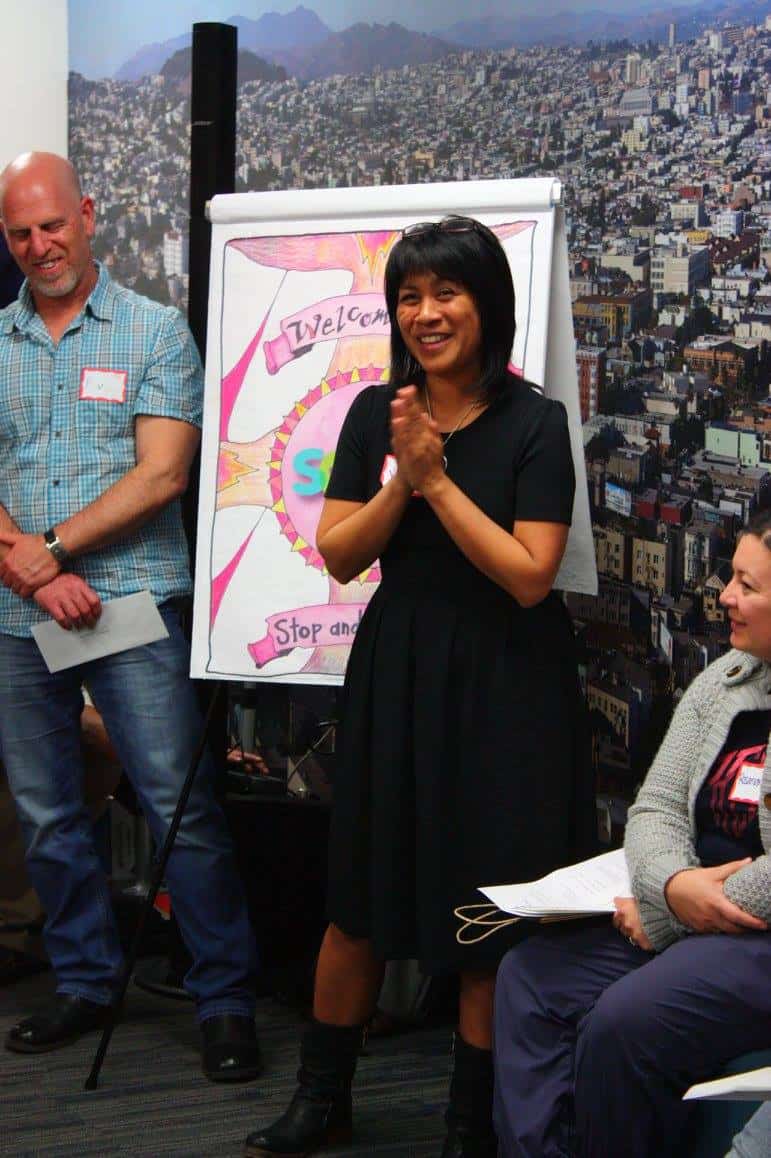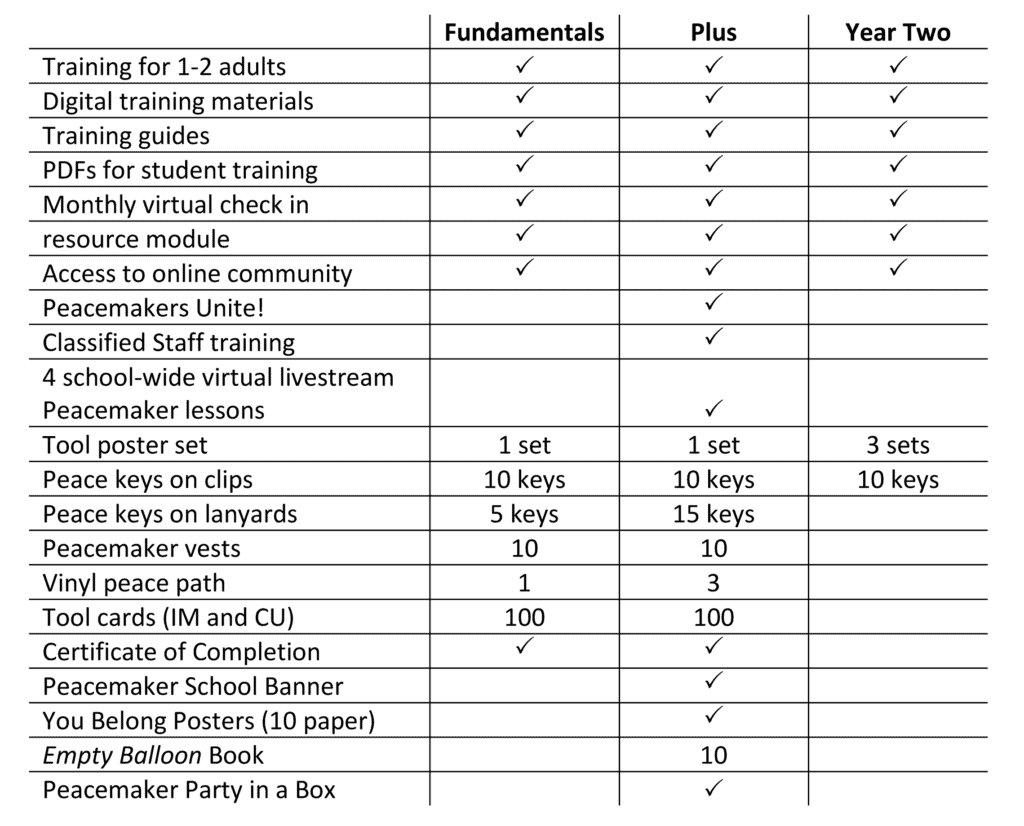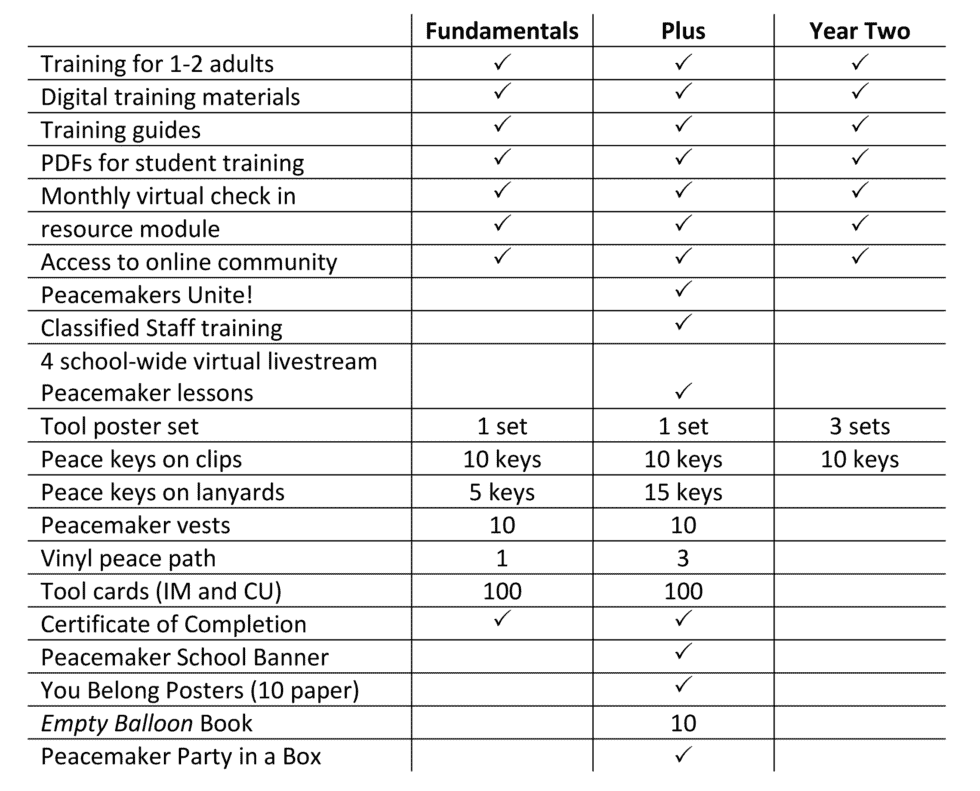 2022-2023 Certification Dates
COHORT 6
Virtual (on Zoom) September 27 & October 13
4 – 6 pm each day
In Person (Oakland, CA) September 29 – 30
9 am – 4 pm PDT each day
COHORT 8
Virtual (on Zoom) January 31 & February 16
4 – 6 pm each day
In Person (Oakland, CA) February 2 – 3
9 am – 4 pm PDT each day
COHORT 7
September 27: 4 – 6 pm
October 4: 4 – 5:30 pm
October 11: 4 – 5:30 pm
COHORT 9
January 31: 4 – 6 pm
February 7: 4 – 5:30 pm
February 14: 4 – 5:30 pm